Task Notes - Best Notepad App For You
Capture information with the simplest efforts!
Preserve and share thoughts, plans, information, tasks and pending work items, and to-do lists in easy and quickest way & increase productivity.
Task Notes lets you create, search, store & backup your notes; set reminders and priorities; and customize its look and behavior.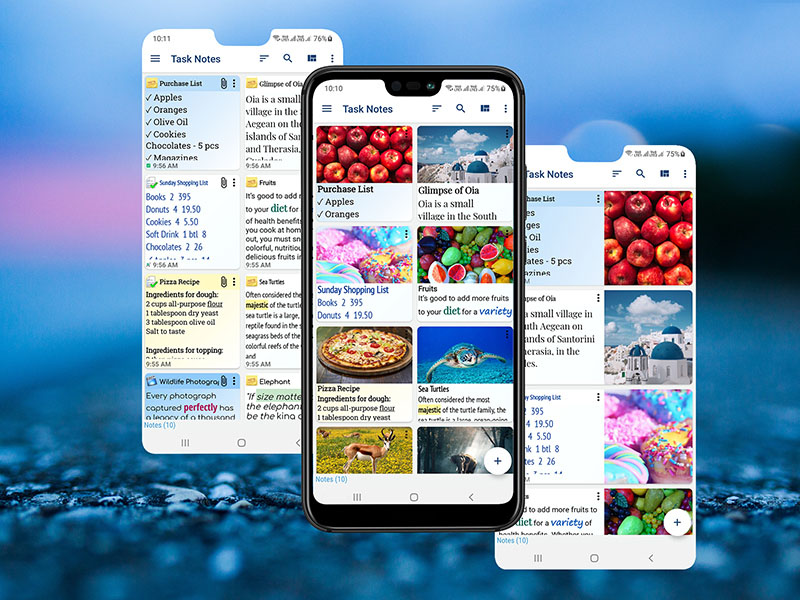 Why Task Notes is the best notepad and to-do list app?
Our prestigious users say so. Our continuous improvement & innovation efforts prove so. Here's why Task Notes is the best Android app for Voice Dictations, Notes, To Do Lists, Shopping Lists & Reminders.
It helps you to:
Create notes and lists by voice/speaking and save typing time
Format and stylize note with fonts, colors and icons
List all the notes in different views and various sorting orders
Share, email, backup and restore notes and list easily
Secure your notes with password or pattern lock
Search texts, undo, redo while editing, group notes in folders
Add reminders to your notes and lists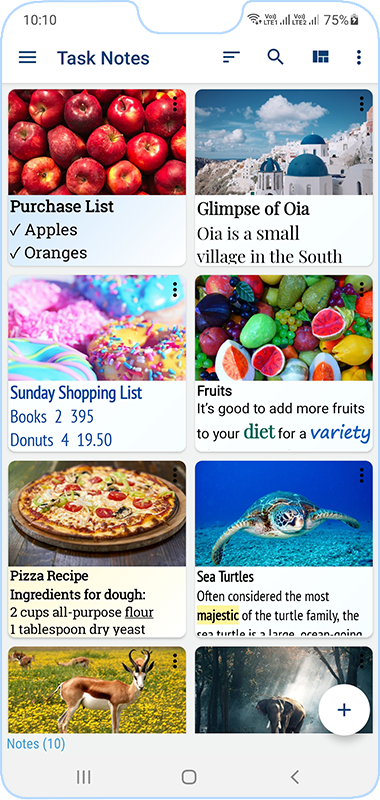 User Reviews
We take pride in our work and have thousands of happy users. Here's what they have to say for Task Notes:
This is an excellent notepad with an assortment of necessary features. The sophistication and quality is every notetakers dream. I recommend this appl highly and intend to use for very special events.
The latest update puts it miles ahead of the field! After using a different app for notes for many years, it no longer met my needs so I started looking for a replacement. Task Note is by far the best of those I tried. It has lots of features, is easy to customize, and the devs are super responsive! Give it a try!
This app is the best note taking app. I searched throughout apps on Google play and when I downloaded this app I stopped searching. You can bold, italics, underline, and a lot more. After your done typing and editing you can save as a PDF and image as well as a text file. This app is the best note taking app, thank you for creating a good app.
This is one of the best note taking & list making apps that I've tried, & I've tried a lot! I paid for the no-ad version; well worth every penny and I use it daily. The developers are very helpful should assistance be needed. Highly recommended!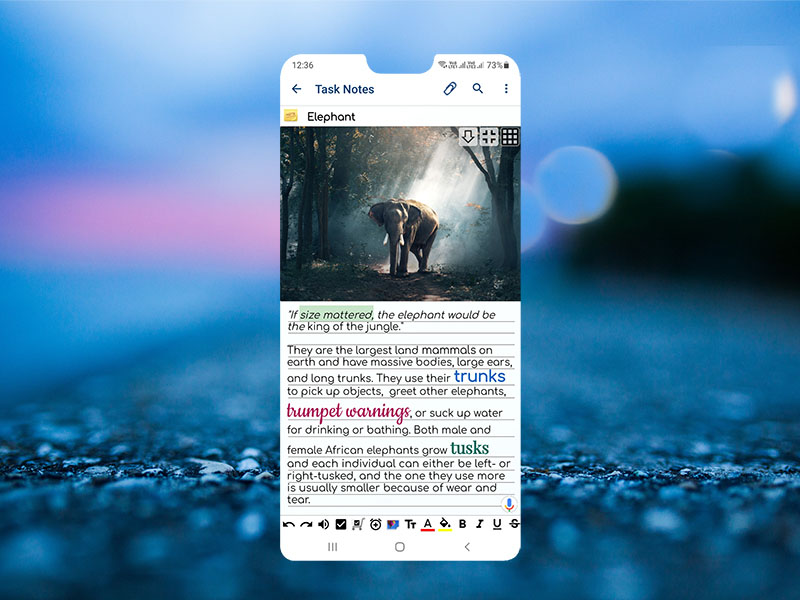 Why our existing users love Task Notes?
Incredibly Useful - Create notes and lists by just speaking. Share, Backup, Email, Read, View and Sort Notes easily.
Stylish & Customizible - Change background color, font style, font size, font color and icon of your notes or lists.
Highly Secure - Protect your notes and lists with password or pattern lock.
You Say. We Listen. We Act.
We greatly value our users and listen to each and every feedback received from them. We constantly update Task Notes with new/suggested features and this makes Task Notes more useful and user friendy with every update!
Special Features
Task Notes is fully loaded with some additional features to give you the confidence that everything's organized, so you can make progress on the things that are important to you.
Task Notes - Pricing
Whether you want to get organized, keep your personal life on track, or boost workplace productivity, TaskNotes has the right plan for you!
Free Version
$0
All features other than Premium Upgrade
Get Started
Premium Upgrade
$4.99
one time
No Ads - More Workspace
Backup & Restore to Google Drive
Unlimited Attachments
Unlock All Fonts
Unlock All Color Themes
Unlock Folder Colors
Unlock All Pushpins
Sort List Items
Use Punctuation in Speech
Auto Replace Speech Templates
Selected Reading
Modify Speech Speed
Note Editor Background Image
Adjust Spectrum Visualizers
Customize Home Screen Widgets
Direction Between Marked Locations
Navigate All Marked Locations
Hide Toolbar
Get Started
More Details
Gallery
Experience Task Notes when you use the fully loaded version to create notes, to do lists, shopping lists & reminders.